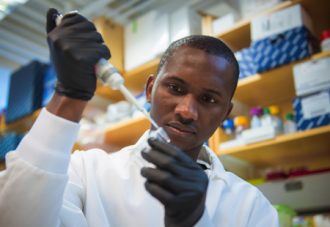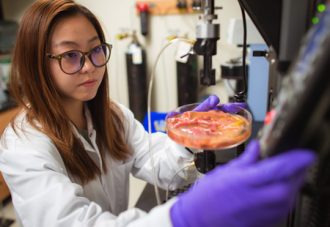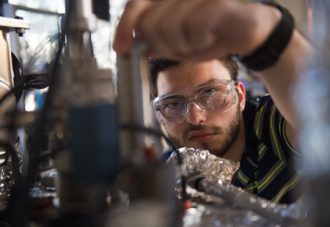 We favor crash pads over training wheels.
At MIT, we believe that "mind and hand" results in the best learning. That's why our students are in the lab from day one.
There is no fear of failure. On the contrary, we respect it — for in failure there is learning. And, we know that failures are the stepping stones to innovation.
We give our students the freedom to discover the limits of what they can do. And we get out of the way — because breakthroughs don't usually come from following the rules.
Undergraduate Research Opportunities Program
Undergraduate Research Opportunities Program is a bridge between education and research — and 90 percent of our students participate. Students tackle projects as diverse as tissue engineering, robotics, biofuels, solar cells, and Internet modeling. Along the way, they gain valuable hands-on experience and benefit from mentoring relationships with faculty and graduate students. 
SuperUROP
SuperUROP is an expanded version of MIT's flagship Undergraduate Research Opportunities Program. The yearlong program enables engineering undergraduates to tackle complex problems and strive for publication-worthy findings. SuperUROP affords them the time, training, resources, and guidance necessary for deep scientific and engineering inquiry. 
MIT Lincoln Laboratory Beaver Works
Innovation and project-based learning come together at Beaver Works, a joint venture between MIT Lincoln Laboratory and the MIT School of Engineering. The center is a workspace where our students can apply their technical skills and industrious habits. The projects are created at a scale, giving them the opportunity to develop solutions to real-world problems.