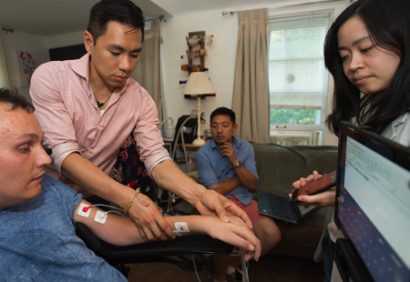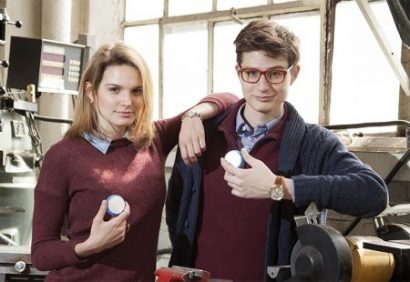 Innovation is baked into our community, from the day a student steps on campus to decades after they graduate. 
We estimate that our students and alumni have launched 30,200 active companies, employing roughly 4.6 million people, and generating roughly $1.9 trillion in annual revenues.
We also know that the seeds of future breakthroughs germinate as often in dorm rooms as they do in classrooms and labs.
So, what happens if we help by adding a bit of seed money and a network of savvy mentors? Our students will tell us where the next great breakthroughs will happen in science, engineering — and anything else they set their minds to.
MIT $100K Entrepreneurship Competition
The MIT $100K Competition focuses on developing the requisite skills necessary to spin talent, ideas, and technology into innovative companies. This student-run competition is structured around a series of distinct, increasingly intensive contests: Pitch, Accelerate, and Launch. Semi-finalists are provided mentorship, prototyping funds, business plan feedback, discounted services, and media exposure. The winning team is awarded $100,000 to help launch their company.
MIT Sandbox Innovation Fund Program
MIT Sandbox opens pathways for all types of student innovators — whether they have a seed of an idea, a nascent technology, a specific startup in mind, or are planning the next moonshot. The program is accessible to all 11,000 MIT graduate and undergraduate students. It connects them with tailored educational experiences, mentoring, and up to $25,000 to help them nurture their creative brainstorms.
StartMIT
StartMIT provides our students with the indispensable resources needed to take their ideas from wherever they start and get them into the world. A two-week boot camp of seminars, workshops, and training, the program immerses our students in entrepreneurship, providing them with the building blocks to translate their passions into needed technologies for the marketplace.
Translational Fellows Program
Translational Fellows Program provides funding for nominated postdocs to work one day a week on bringing to market technologies that originated from their research at MIT. A year-long program, postdocs engage in a series of activities, from mentoring to conflict-of-interest management, aimed at building the commercial value of their venture and connecting with MIT's rich entrepreneurial ecosystem.